September 30, 2009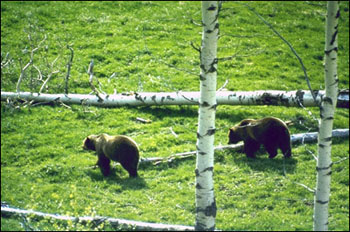 Two grizzly bears photographed by the USFWS.
Credit: USFWS, Lewis and Clark National Forest
A few days after a grizzly bear reportedly mauled a sheepherder in Wyoming, David Knibb, author of Grizzly Wars: The Public Fight Over the Great Bear, spoke about the iconic grizzly in Boulder at the University of Colorado.
Indeed, the "wars" continue as unfortunate grizzly bear encounters with people and livestock were reported in the northern Rocky Mountains, while bear populations have grown in greater Yellowstone, prompting a controversial classification of the bear in 2007.
Knibb touched upon several grizzly bear topics during his talk, offering his knowledge and perspective in a low-key and informative style. Leafing through his book, the reader finds a thorough but sober and engaging narrative of a very complex interaction between man and animal.
Grizzly recovery
The U.S. Fish and Wildlife Service estimates that 50,000 grizzlies roamed the West at the time of the Lewis and Clark expedition in the early 1800s. Today, the agency counts between 1,200 and 1,400 wild grizzly bears in the West.
The grizzly was listed as a threatened species in the lower 48 U.S. states in 1975 under the Endangered Species Act.
The USFWS on its Web site listed the following recovery zones for grizzlies:
The Yellowstone area in northwest Wyoming, eastern Idaho and southwest Montana, comprising 9,200 square miles with more than 580 bears.
The Northern Continental Divide Ecosystem of north-central Montana, covering 9,600 square miles with more than 400 bears.
The North Cascades area in north-central Washington, comprising 9,500 square miles and less than 20 grizzlies.
The Selkirk Mountains of northern Idaho, northeast Washington and southeast British Columbia, covering 2,200 square miles with about 40-50 bears.
The Cabinet Yaak area of northwest Montana and northern Idaho, comprising 2,600 square miles with approximately 30-40 bears.
An additional recovery area, the Bitterroot recovery zone, was identified in the Bitterroot Mountains of east-central Idaho and western Montana, covering 5,600 miles. This area does not contain grizzlies, it is believed.
The San Juan Mountains of Colorado was also identified as a possible area of recovery.
In his book, Knibb pointed out that the recovery areas were already federally managed and primarily roadless areas. Critics said the areas were too small and focused too much on small islands of habitat, while ignoring bears outside of the areas.
Bears within recovery zones, critics said, would be cut off genetically from other areas and would be prevented from moving from once place to the other through safe corridors.
Nonetheless, during his talk, Knibb noted that the grizzly had made a "remarkable recovery" in Yellowstone.
The recovery has been so good, in fact, that in March 2007, the USFWS declared the so-called Yellowstone Distinct Population Segment of grizzly bears a "recovered population," no longer meeting the Endangered Species Act's definition of a threatened or endangered species.
Thus, the Yellowstone grizzly was effectively "delisted."
The action, according to USFWS, did not affect other grizzly bear populations in the lower 48. Grizzlies in other areas retained their threatened status under the ESA.
However, as is the case with most aspects of the grizzly bear, the "delisting" of the Yellowstone grizzlies was not without controversy.
In June 2007, conservation groups led by Earthjustice filed suit in Idaho federal district court seeking restoration of the grizzly's threatened status because of "… ongoing and threatened habitat destruction, insufficient bear numbers, and inadequate legal protections."
Habitat concerns
Knibb pointed out that there are a number of grizzly habitat concerns, including the health of the whitebark pine. He explained that a bird, the Clark's nutcracker, stores or caches whitebark pine nuts. Grizzlies rely on the caches as a major food source.
Importantly, bears tend to remain in the high country when they can find the nuts, but when nut crops are poor or unavailable, the bears go into lower valleys and "get into trouble."
The whitebark pine, said Knibb, is under threat by pine beetles, calling into question how the grizzly can be delisted when a major food source is threatened.
The counter argument is that the bear is adaptable.
While noting the use of a so-called Distinct Population Segment of threatened species is permitted under the ESA and not without precedent, Knibb said it is controversial.
Instead of drawing circles around healthy portions of populations, so the argument goes, healthy bears should be allowed to thrive under protection and disperse to help the species in areas where it isn't doing so well.
A deeper discussion of this issue may be found in chapter 18 of Grizzly Wars, entitled "Yellowstone: How Should We Measure Success?"
Yellowstone attraction
For many years, Yellowstone grizzlies were quite an attraction, Knibb pointed out, as the bears fed at park garbage dumps while tourists sat and watched behind fences. This posed several problems for bears, who came to rely on the easy food source, identify humans with food, and lose their natural wariness of people.
Eventually, it was determined that the dumps should be closed, but the question arose about how to close them — gradually to wean the bears off their junk food diet, or cutting them off immediately and letting them go cold turkey.
As this was being considered, two female backpackers were killed by grizzlies in 1967 in Glacier National Park. Soon thereafter, the decision was made to immediately close the Yellowstone dumps.
The population of grizzlies subsequently plummeted as "a number of bears couldn't live without junk food," said Knibb.
Grizzlies in Colorado
It has not nearly been as easy in the recent past to view grizzly bears in Colorado.
In keeping with the grizzly's problematic nature, there have been several disputed sightings of grizzlies in Colorado.
For many years, it was thought that the last grizzly in the San Juans was killed in 1952, until a hunter killed a grizzly bear after being attacked in 1979. It was determined that the bear was between 16 and 20 years old and had raised cubs. A number of inconclusive searches were undertaken and no further hard evidence of grizzlies in the San Juans has been found to date.
Speculation that the bear migrated down from Yellowstone is "silly," said Knibb.
Three years ago, there was a "credible" sighting in Graham Gulch near Independence Pass, but again, no follow-up evidence was found.
"My view is that if there are a few grizzlies (in Colorado), they are really doomed," said Knibb. "A population that small is bound to die out." He explained that "it takes at least 70 individuals for short-term survival"
He also cited "inbreeding depression" as a biological condition adversely affecting small, isolated populations of animals, inhibiting fitness and survival.
Reintroduction in Colorado?
Knibb noted that the USFWS conducts 5-year reviews of its species classifications. In April 2007, the agency initiated a review of the grizzly bear and the recovery program. During this review, said Knibb, the agency will again consider the Colorado San Juans as a potential recovery area.
However, he said that the Colorado Wildlife Commission is on record opposing grizzly bear recovery in the state, a stance that may be an excuse for the USFS to do nothing.
Knibb also questioned where officials would bring bears from to reintroduce, raising the issue of whether northern Rockies grizzlies bears could adapt in the Colorado San Juans.
Sadly for wildlife advocates, Knibb said that whatever may have been unique about Colorado grizzly bears genetically is gone.
Grizzlies and coexistence
With a more wildlife-friendly administration in Washington, D.C., Knibb speculated that grizzlies could benefit from global warming initiatives, a possible reintroduction in the Bitterroots and Northern Cascades, and better cooperation with British Columbia wildlife managers.
However, a pragmatist may simply ask: Why go through the effort of reintroduction of a species that invariably brings steep management challenges and is, after all, potentially lethal to man?
A discussion of the grizzly's reintroduction naturally draws parallels with the wolf, which was reintroduced into the northern Rockies in the 1990s (with plenty of controversy then and since).
As a predator, the wolf is often tied into a broader interconnection with the ecosystem, culling large elk herds and thereby helping other flora and fauna. The "trophic cascade" phenomenon has shown the benefits of wolves in Banff National Park to beaver, trees and songbirds.
Knibb couldn't link the same type of relationship between the grizzly and the broader ecosystem. Grizzlies are omnivores, and while Yellowstone grizzlies engage in more predation of moose and elk than usual, it is not to the degree of wolf predation and thereby not necessarily as beneficial to an ecosystem.
But Knibb said that the most significant benefit of grizzly reintroduction is restoring systems to their natural state and fostering a sense of "coexistence" between humans and bears.
As he writes in Grizzly Wars:
Grizzly recovery thus rests with humans, not grizzlies. They are our big test. If we insist that animals serve some end, the grizzly's ultimate value and purpose may be to test our willingness to share part of Earth with a wild and fearsome creature that remains as intolerant of us as we have been of it.
Later in the book, Knibb quotes Bill Paleck:
"… Somehow we need to inspire the public to think instead that we are nobler because grizzlies live among us."
Story by David Iler