October 21, 1996
I'm not a really serious mountain biker. I do more casual riding, usually around the local bike paths with my two sons. Nothing too strenuous. So, I had some second thoughts when I was talked into taking a bike riding trip near the Grand Tetons in Jackson Hole. All I could think about was straining my legs on rough, rugged terrain — up hill, down hill. Jackson is known for it. The ski area boasts some of the steepest black-diamond skiing around. Would the local bike trails be just as tough?
I thought I'd better have lots of energy for the ride, and stoked up on some Western fare at a local restaurant, Dornan's, in nearby Moose. A big picture window at Dornan's lets you view the massive Teton Range. I kept looking at the steep mountains. My legs were complaining already.
David Hunger, owner of Teton Mountain Bike Tours, picked us up in the restaurant parking lot. He agreed to meet us there, although it's no problem for him to swing by a lodging site. Mongoose mountain bikes were in the back of his specially designed bike trailer. As I looked over these professional riding vehicles, I confessed my concerns. I didn't want to finish this jaunt with my legs aching for a week.
Hunger does offer more difficult trail rides, but we were taking the more scenic one with a very gradual, graded terrain. "If we're lucky, we might even see a buffalo or two," he said. All this suited me just fine.
We headed to an area called Antelope Flats, about 12 miles from the heart of Jackson. It has plenty of connecting roadways, and almost no traffic. There were a few houses and ranches in these lowlands of the Snake River Valley. The scrub brush looked like something from an old cowboy movie, and the Tetons towered against the distant sky as if plucked from a tourist guidebook. It was Memorial Day weekend and lots of snow still was visible on the peaks. The air had a coolness to it. A perfect day for a ride in the mountains.
We stopped at a crossroad with lots of mailboxes — Mailbox Corner. Everything on the outskirts of Jackson is so spread out it's not unusual to have a central mailbox area even though no homes were in sight. At this somewhat deserted locale, our guide handed us helmets, gloves and a water bottle.
We started our ride down a long, lonesome roadway. We encountered maybe two or three cars during our entire journey. We also didn't see many other bikers. . The sun had finally poked its head out after a cloudy morning. It made the Grand Tetons look even more grand as we rode. I was having no trouble following along at my leisurely pace.
Hunger took us to a spot that had sustained fire damage the year before. The grasses had all grown back with lots of wildflowers. My legs did get a little more exertion as we rode through some dirt pathways to the area where he had spotted buffalo the day before. They must have been lunching at some other spot when we arrived, but we saw evidence of their presence. We just rode around it.
As the name of the area implies, riders also might see antelope. But just as we didn't see any buffalo roaming, we didn't see any antelope playing, either. We did, however, see some hawks in flight.
We then pedaled back past a big, old, brightly painted house called the Pink Palace. It was along Mormon's Row, where at the turn of the century, this two-mile stretch of road had lots of homesteaders belonging to that faith. Only a few of the original dwellings still stand, including the Moulton Cabin. Some of the Moulton family members continue to live near the old cabin, which recently was renovated and had a 100th anniversary celebration. It is a symbol of Jackson Hole and pops up on a lot of postcards and area guidebooks.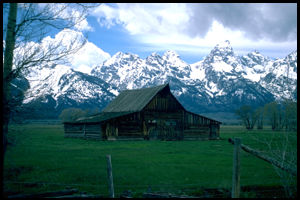 As we made our way back to Mailbox Corner, my legs were feeling strong. We passed a few more ranches and more views of the Tetons. It was so clear we could see the distant Jackson Hole Ski Resort. Its red tram was a spec against the white backdrop. I almost wanted to bike a little longer.
Next time, maybe, I'll try one of Hunger's other longer, more rigorous tours. He's the only guide in the Jackson area with a permit to do guided tours in Yellowstone Park, Grand Teton National Park and Bridger National Forest. Prices for the tours start at $40 per person for the Antelope Flats trip, up to $90 for an all-day trip into Yellowstone Park. Some trips include lunch. For more information contact Teton Mountain Bike Tours at POB 7027, Jackson, WY 83001, (307) 733-0712, fax (307) 733-3588.
Jill Barnes