January 12, 1997
Skiers come to southwestern Montana for its steep downhill runs. But they also come for its uncrowded trails, small lift lines and great lodging at affordable prices. In addition to the skiing, winter sports enthusiasts can try ice fishing, dog sledding, snowmobiling, and when the day is done, take a dip in a natural hot springs pool.
Discovery Basin in Anaconda, Maverick Mountain in Polaris and Lost Trail Powder Mountain in Conner aren't as big as counterparts Big Mountain and Big Sky. But skiers who want a lot of terrain at a good price — lift tickets as low as $16 — should consider this area of Montana. With a little bit of planning, skiers can enjoy a winter vacation that's less expensive and less crowded. Most times you're skiing with the locals, so don't be surprised to see cowboy hats as ski apparel.
Many area hotels offer ski packages and some include hot spring pools. Skiers can find deals as low as $65 for two nights and two days skiing, plus breakfast.
All operate from 9:30 a.m. to 4 p.m. One drawback, only Discovery Basin is open daily. Maverick and Lost Trail are open Thursday through Sunday, plus holidays, which gives visitors a chance to sample the other winter activities.
Discovery Basin (below) is just off Mont. 1 near Georgetown Lake and the historic towns of Anaconda and Philipsburg. Both were once bustling mining towns and tours are available. The ski area is part of the Pintler Mountain Range, which provides some great scenery while coasting downhill. The summit is 8,150 feet, the base lodge at 6,850 and a vertical drop of 1,300. As with the others, skiers won't find big crowds or long lift lines. Discovery averages only 42,000 skiers a season.
Discovery has the most trails with 33 runs on its front and back faces. The front offers skiers of all abilities some fun. Lum's Run and Gold Bug come down to the lodge area. Although rated novice trails, these provide plenty of good skiing for even an intermediate skier with slalom runs through the trees. Owner Peter Pitcher keeps cutting new trails such as black diamond Atlantic Cable.
The back side has extreme skiing of steep and ungroomed trails, plus a few blues for those who just want a look-see. Discovery has all-day kids programs for a low $32 with rentals. Lift tickets are $22 for adults and $11 for kids 12 and younger.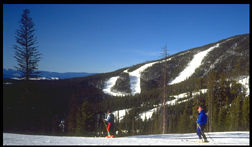 Other activities in the area include ice fishing on Lake George for silver salmon and rainbow and brook trout. Or travel the mountain trails by dog sled. The Fairmont Hot Springs Resort, about 35 miles from Discovery Basin, offers ski packages. It has a relaxing outdoor hot springs pool that keeps guests toasty even in the dead of winter.
About 50 miles from Anaconda is the tiny Western town of Polaris, off I-15. Although it only has a one-room school house, but it also is home to Maverick Mountain in the Pioneer Mountains.
Maverick has a summit of 8,620 feet, base 6,500 and a vertical of almost 2,200 feet. It offers 16 trails including a double diamond called Show Time and a single named Rock 'n Roll that gives an excellent view of the Pioneers. Maverick Mountain has been called one of skiing's last frontiers. Like Discovery, it's uncrowded and many skiers are locals. In January, Maverick hosts a unique event called the "Rope N Slope." Cowboys (and girls), usually in full western garb, compete in both downhill and snowboarding races, and then a calf roping contest. Grizzled cowpokes with chaps and battered hats are an unforgettable sight on the slopes, especially when they cruise on a snowboard. Lifts are $18 for adults, $11 for kids and ski lessons are available. It also has half-price specials on Thursdays and Fridays.
Maverick also guarantees its snow conditions. If after the first half-hour you feel the conditions are not satisfactory, a pass to ski another day is given.
To relax, stay at the nearby Grasshopper Inn for some Western hospitality and great steaks. Don't be surprised to see a moose or two in the foothills. The Inn also has snowmobile rentals to explore the Pioneers with its Elkhorn Ghost Town, an old silver mining town, or stop by the Elkhorn Hot Springs.
About 80 miles from Maverick is Lost Trail Powder Mountain along the Montana/Idaho border in the Bitterroot Forest. It averages about 300 inches of natural snow, so there's lots of opportunities to ski powder. Lost Trail has some great runs and great deals for families.
In keeping with the casual western atmosphere, Lost Trail owner Bill Grasser notes you won't need a $500 ski suit to fit in. "Overalls are just fine," he said. The trails are more than fine.
The 18 runs are long and challenging with most in the intermediate range. The top elevation is 7,800 feet, the base 6,600 and the vertical 1,200. A number of trails have steep drops, including the intermediate trail Southern Comfort. It sports a number of moguls and some skiers will be comforting their southern ends on this run. Kids love the North Bowl and Speedway with its moguls and runs through the trees.
Lifts are only $17 for adults, $9 for kids 12 and younger, and those 5 and younger ski free. For first-time skiers, there's an $18 plan which includes lift and equipment. After that it's $22. There's even a Ladies Day Special — two-hour lesson, lifts, rentals and lunch for $30.
The Lost Trail Hot Springs Resort, six miles away in Sula, has cozy cabins with kitchens, plus a main lodge and restaurant. Try the huckleberry pancakes for breakfast. An enclosed hot springs pool, hot tub and sauna are part of the lodging deal, and snowmobiles rentals are available.
Cross-country skiing is available along the nearby Chief Joseph Trail System. If you want to view bighorn sheep, elk and golden eagles, book a table at the Broad Axe Lodge and Restaurant, also in Sula. Binoculars are provide upon request.
Story and photos by Jill Barnes