September 2, 1997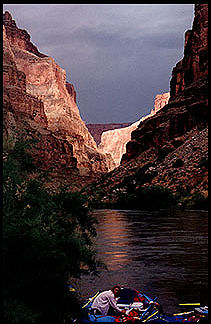 A raft trip down the Grand Canyon is not a wilderness experience. Consider:
Nearly 5 million people visit the national park each year.
More than 20,000 of them are rafting the river.
On any given summer night, nearly 1,000 people will be camping in the limited campsites along the 226 miles of river.
Private boaters wait in line for as long as 10 years for a permit.
Twenty-six pages of rules and regulations govern the river experience for those who persevere.
Wilderness? Not hardly, but it remains one of the world's great river trips.
River people know this before ever coming close to the chance at making the trip under a private permit. We call it The Grand, and we talk about it all the time. We ask questions, tell stories and lies and repeat the best ones over and over again.
I knew The Grand before ever being introduced. I knew about the bubble line in Lava Falls, the hole in Crystal, the rocks in Hance, the waves in Hermit. I knew the water could be big, 10 times the volume of what a Colorado kid might boat on a weekend. I knew the water did crazy things to good boaters on a regular basis. I knew if I ever had the chance to go, I'd go. I was fairly certain I'd flip that boat at least once somewhere along the way.
The phone call came almost a year ago from a close rafting friend. A friend of his had a friend who had a permit. We obtained status as first reserves on a waiting list. I started reading the guide books. I daydreamed. I tried like hell to prepare myself for a phone call informing me I couldn't go.
The phone finally rang in January. We were on the trip. I began the only kind of preparation I could think of. I studied up. I hit the weight room. I daydreamed to distraction. I was about to spend 14 straight days on one of the world's great whitewater rivers in a canyon one-mile deep. The usual annoyances of life – job, traffic, cleaning the house – became inconsequential.
Rigging a boat at the Lee's Ferry boat ramp is where any notion of wilderness ends. Our group included 15 people on seven rafts (two 14-foot catarafts, one 12-foot self-bailer, one 18-foot self-bailer, and three 14-foot self-bailers) and three kayaks. Another private trip with five 18-foot boats was rigging and leaving the same day. The commercial trips were in and out with massive trucks and even more massive boats. The typical "sausage" boat carries around 20 people each paying about $200 a day.
Our boats looked small in comparison to the other rigs. They looked smaller in comparison to the amount of gear our flotilla planned to float all the way to Lake Mead. Beer alone amounted to nearly 70 cases. We like beer. Several tons of food and gear got loaded on rafts that day. Another several tons would be loaded the next day, and the next and the next.
It took almost an entire day to ready the boats and complete the mandatory ranger-conducted orientation. The wait to be underway was excruciating. The gauge of how the trip would be would come once we were eight miles down river, at Badger Creek rapid, a 4-6 on the 10-point Grand Canyon scale. Only then could I judge what I was in for.
At 23,000 cubic feet per second, the Colorado River proved surprisingly powerful to those more accustomed to small, swift currents. An eddy line can threaten to dump a boat. An oar dropped in the water at the wrong time will get yanked from an oarsman with the power of a coal train. I learned a bunch that first afternoon, most important that mid-sized Grand Canyon rapids are far more fun than fearsome, even for the small boats in our group.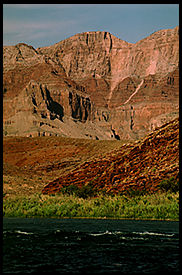 That revelation set up five days of bonhomie and horseshoes in a canyon unsurpassed for scenery. We played a ridiculous amount of horseshoes, river rules prevailing. We fished, trout at the mercy of the expert anglers in our group. Those who had never met got to know each other. We camped on soft, white sandy beaches. We ate gourmet food prepared by revolving teams of cooks. We waited somewhat anxiously for camp five above Unkar rapid, the gateway to the Middle Gorge. Days spent in the Middle Gorge would separate the top flight oarsmen from the pretenders, I was sure.
I was not disappointed in the water. It was big, but somehow benevolent if granted the proper respect. I never tempted fate, searching out the safest routes available. I saw Hance rapid, rated a notorious 7-8, ran its rocky passage cleanly, and knew then it was going to be up to Crystal and Lava to flip me. Every day so far was the best day on a river I'd ever had. There is only one word for the scenery: unsurpassed.
As the days passed we lost track of time in a canyon that has catalogued 2 billion years. The group, many of whom had never met, grew to a cohesive unit. We became familiar with the unusual words of the canyon: Kaibob, Coconino Tapeats, Kwagunt Nankoweap, words that creep in the vocabulary as much for the geology as for the geography. Rapids, trails and formation often share names at the bottom of The Grand. It is a place much studied for it is a place where much can be learned.
By Crystal, the group was seasoned, no doubts remained our group was a polished bunch of river rats. Granite rapid, with a 7-8 rating, offered a rambunctious precursor to what we expected at Crystal where the casual route description is thus: You can't be too rich, too beautiful or too far right in Crystal. But a funny thing happened on the way to the whitewater. The river changed. No hole waited at Crystal, the monster was sleeping. Relief mixed with genuine disappointment, as the run through Crystal underwhelmed my expectations. That left Lava Falls.
Scouting Lava is a gut check. It's rated a 10, the boiling point on the Grand Canyon scale. There just isn't a route to completely like, the two possible routes offer only comparisons of lesser evils. It's big, messy and long. It's Lava Falls. I watched the first few boats of our group from shore as they took the famed middle or bubble line route. We'd take the same, running just left of a hole that promised to puree any boater foolish enough to tempt it.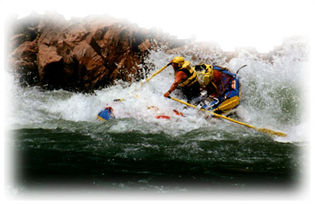 Lava Falls is said to be the fastest navigable water in the Western Hemisphere, but the float to it is agonizingly slow. There's drama to the pace, a slow build to a very big finish. I floated, fiddling with my alignment, not even remotely wanting anything to do with the menacing hole at the top, river right. We shot left of the hole where one good oar stroke would pop us through a smaller hole and into a relatively sane line. I took one big pull on the oars and my right oar handle broke. It did get me to the proper line, though, so we hung on, doing what we could with an oar and a half. For our troubles, I got a rather large adrenaline hit and a darn good souvenir. The broken handle hangs like a trophy in my garage.
I look at the broken handle from time to time, palming it to remember the feel. It's memories that come back, now, no longer daydreams. It was grand, truly grand. I'll go back. I promise.
Photos and story by Doug Freed