November 24, 2009
The diminutive mountain pine beetle doesn't howl at night or chase humans up trees.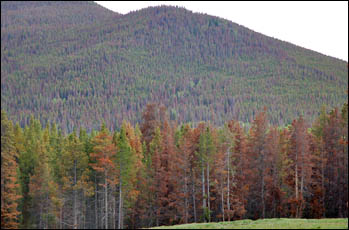 A hillside of dead lodgepole pines, near Snow Mountain Ranch between Winter Park and Granby in Colorado, 2008.
Photo: Tania Schoennagel
There are no trails at Colorado ski areas named after the mountain pine beetle.
Yet this small creature is the leading character in a sweeping transformation of lodgepole pine forests in Colorado and the West, leaving millions of acres of dead trees in its wake.
Because of the beetle infestation, and the conditions that let the beetle thrive, Colorado's forests are changing. It's not clear how or to what extent. The reddish hue of dead trees is the first, but not last, change in the mountain landscape that is so interwoven into the state's heritage and image.
This was the backdrop for a Sept. 30 colloquium at the University of Colorado, with the mountain pine beetle front and center and considered through three perspectives: science, philosophy and public policy.
This article focuses on the science portion of the event. It is based on notes from the Sept. 30 presentation by Tania Schoennagel, forest landscape ecologist with the University of Colorado's department of geography, as well as a post-event interview with her.
Heavy lumber
Schoennagel provided the foundation for the event with a presentation, "Bugs and Bugaboos: Mountain Pine Beetles, Fire and Ecological Restoration," which considered:
Were the older, bigger trees that provided the beetle's initial foothold an artifact of past forest management?
The elevated fire risks in areas ravaged by the beetle.
Causes of the outbreak and the abundance of such a susceptible host (i.e., lodgepole pines).
Climate characteristics that were favorable for the mountain pine beetle.
Restoration/regeneration of the forest once the beetle outbreak passes.
The mountain pine beetle has left its mark on about 2 million acres of forests in Colorado, primarily targeting lodgepole pines, which grow at between 8,500 and 10,000 feet above sea level. Colorado represents the southern distribution of the beetle infestation which extends north into Canada.
Severe drought conditions, especially in the parched year of 2002, hastened a mass emergence of beetles hungry for trees. Larger, older lodgepole pines weakened by drought provided beetles with a rich first course, allowing the bugs to grow in numbers and engage in synchronized attacks of individual trees.
Increased populations of beetles then attacked smaller, more vigorous trees.
The beetles were, in effect, offered the "perfect dinner plate here in Colorado," said Schoennagel.
So much so, that questions have emerged about contributing factors to the beetle's success.
Logging or lack thereof a factor?
Compared to the Pacific Northwest, where the size of trees made logging very profitable ("one tree makes a truckbed" was the slogan), the size of trees in Colorado were generally not big enough to attract logging interest. (In Colorado, 100 trees filled a truckbed.)
Instead, recreation was a stronger economic factor governing forest management in Colorado. Relatively small trees and a priority on recreation use in forests worked together to keep the state free from widescale logging.
Yet, in British Columbia, where the majority of forests are already dead due to the beetle, plenty of logging took place without denting the beetle's work. Consequently, logging doesn't seem to have had an impact on the infestation.
Fire suppression
While fires in high-elevation lodgepole pine forests are characteristically infrequent over the short-term, once a large fire is ignited in one of these forests, it would be nearly impossible to extinguish, Schoennagel pointed out.
And large-scale fires from a long-term view are "business as usual" for these forests. Large fires in Colorado burned through a lot of landscape following a very long dry period in the late 1800s, making today's lodgepole pine forests about 120 years old, an age ripe for pine beetles to attack.
While fire suppression per se has not increased tree densities in forests, the age of Colorado's lodgepole pine forests have contributed to their susceptibility to the mighty mountain pine beetle.
Climate's factor on the mountain pine beetle's appetite
Much more than logging and fire suppression, climate factors (primarily temperature and precipitation dynamics) have conspired to give the beetle optimum conditions to engage in large, synchronous attacks on individual trees over a very large geographic area in the West.
"Over the last 50 years, we've seen a progressive increase in summer temperatures and minimum winter temperatures," said Schoennagel. Summer temperatures of about 77 degrees F act as a "cue" for a peak emergence and synchronous flight of large numbers of hungry beetles.
In winter, recent periods without a sustained temperature of -30 degrees F meant beetles were able to survive.
Compounding the temperature change, the worst drought conditions in 100 years in 2002 effectively set the table for legions of beetles to feast. Surveyors, said Schoennagel, subsequently recorded a large expansion of mountain pine beetle damage in 2003.
Under normal precipitation conditions, lodgepole pines can "pitch out" beetles with stores of sap. Drought greatly diminished this defense. The sheer numbers of beetles attacking stressed trees simply overwhelmed the hosts.
The vast scale and synchronization of the infestation over a very large area from Canada to Colorado bears the "handprint" of climate change, said Schoennagel.
"The climate change impact, I believe, is the signature of this event."
Colorado in the post-pine beetle era
As the pine beetle gets its fill of lodgepole pine forests and leaves behind millions of dead trees surrounding dozens of mountain communities, questions naturally have arisen about the risk of a catastrophic forest fire.
Schoennagel cited two phases of fire risk:
The "red and dead" phase with trees tinged the now-familiar reddish hue — dead but with needles still in branches.
The "brown and down" phase with trees still standing but dead needles having fallen to the forest floor.
The first phase carries the risk of large, out-of-control canopy fires as quickly ignitable dead needles facilitate fires moving from tree to tree.
The second phase, with a greater distance between tree canopies (because needles have fallen) highlights the risk of surface fires, although it may take years for the fire risk to take hold.
The large fuels of tree logs (the main trunks of trees) represent still another fire risk.
Once again, drought is a key player and if forests become dry enough, larger fires such as the 1988 Yellowstone fire or the 2002 Hayman fire are possible.
The silver lining with these risks is a heightened awareness of fire by communities, governments and individuals.
"People are seeing the true fire risks," said Schoennagel.
Lodgepole pine lifecycle: Restoration or not?
A useful tool to place the beetle's effect on forests in context is the metric known as the "historic range of variation" or HRV.
If a system experiences conditions outside of the HRV, then it may make sense for forest managers to step in with restoration efforts.
"Lodgepole pine forests typically experience boom and bust cycles," said Schoennagel. Large fires in Colorado's lodgepole pine forests would not be out of the HRV and typically occur within a timeline of 100 years, triggered by extreme drought events.
"We're probably due for one," said Schoennagel.
Yet it's not a foregone conclusion that beetle-ravaged forests will burn. It is likely that they will regenerate.
"As long as forests are regenerating, they're probably not fundamentally outside the HRV in Colorado."
The 'next forest'
Whatever the sequence of events, the forest will be fundamentally different. In describing the "next forest," Schoennagel referred to "advanced regeneration," which because of less forest canopy overhead, allows trees and vegetation already growing in the understory to emerge and grow.
Aspen is a common species to follow in the lodgepole pine's wake and is also more fire-resistant. Once the overstory of the forest opens up, smaller lodgepole pines, fir and spruce will emerge. Vast hillsides of aspens would create some spectacular autumn landscapes in the high country, as aspen leaves turn the familiar gold in late September.
Dealing with the beetle's leftovers
While the look of the post-pine beetle forest is uncertain, priorities moving forward are pretty clear.
The "primary policy and management focus is securing funds to remove hazardous trees," particularly around powerlines and campgrounds, said Schoennagel. In August, the regional U.S. Forest Service office announced public comment periods for the Emergency Powerline Clearing project, an effort to remove dead and dying trees in the Medicine Bow-Routt, Arapaho, Roosevelt and White River National Forests in northern Colorado.
(In Colorado's mining and logging days, hazardous trees were known as "widowmakers" for their capacity to fall and kill or maim miners and loggers. Forest managers realize widowmakers have returned, courtesy of the mountain pine beetle.)
The second priority is the so-called urban-wildland interface, containing communities and subdivisions that have extended their reach into forests (for example, the town of Evergreen). The focus in these areas should be on protecting individual structures. It is recommended that homeowners clear an area of 100 meters around homes of potential fire fuels.
The third priority is remote backcountry areas. The backcountry is generally difficult to access and efforts to remove fuels would be unbelievably expensive. However, protecting major watersheds in the backcountry is a concern as large fires could spark soil erosion into creeks and streams that provide water to major cities.
As the risks of beetle-ravaged forests are identified, the message is that despite worst-case scenarios, communities can and will survive the transformation of their landscape.
Through the lens of tourism, Yellowstone's comeback offers some solace, as the numbers of visitors to the area is on the rise 21 years after the devastating fires of 1988.
Destination: Front Range?
Looking ahead, there is concern about mountain pine beetles moving to a final dinner course: the ample ponderosa pines found at elevations of 5,500-8,500 feet, including along much of the populous Colorado Front Range.
"We're in 'wait-and-see' mode for the Front Range," said Schoennagel, noting that considerable tree mortality is possible.
Perhaps acting as a vanguard, beetles have been observed skipping over the Continental Divide from west to east near the Moffat Tunnel.
Ultimately, will there be an end to the beetle infestation?
"The dark side is that we think it will end when (beetles) run out of host trees," said Schoennagel.
Whether or not the convergence of climate and temperature conditions which contributed to the lodgepole pine infestation will set the table for another beetle feast remains to be seen.
In the meantime, the lowly mountain pine beetle serves as a reminder of the powerful forces of nature and climate. Like it or not, the beetle has carved its initials into Colorado's forests, perhaps even more so than mining, railroads and ski resorts.
Perhaps skiers and snowboarders 20 years from now will be traversing "Pine Beetle Way" at a ski resort. Chances are, though, the trail will not be home to any living, large lodgepole pines.
Story by David Iler