April 24, 1995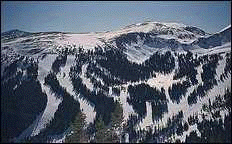 Many Colorado skiers are just unpacking their boards, boots and poles as spring takes hold in the Rocky Mountains. They share a little secret not well known: Some of the finest ski conditions occur in April and May. Mix one of the snowiest months of the year (April) with mild temperatures, plenty of burning high-altitude sun and thinning crowds, and the result is a great ski experience. With snow on the ground in Denver as late as April 19, May skiing in Colorado promises to be the best in years.
Straddling the Continental Divide on either side of Loveland Pass in central Colorado, two ski areas are spring-skiing meccas – Arapahoe Basin and Loveland Basin (pictured above and below). With peak elevations of 13,050 and 12,280 feet respectively, both areas hold their dry snow well into May and June. A-Basin typically is open until June. In exceptional snow years, lifts here are running into July.
Both A-Basin and Loveland share the same laid-back ambience. There are no chic condo villages, long lifts lines, high-speed quad lifts, overpriced parking lots or cappuccino carts. Instead, the emphasis is on skiing. Telemark skiers and snowboarders are well represented, as are older skiers who come to these areas to experience skiing as it used to be.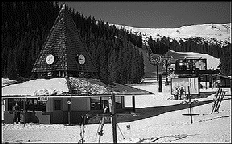 On a visit to A-Basin during the first week of April, we had to double-check the calendar to make sure it was spring. Conditions were wintery. The Basin's 60-inch base (now approaching 90) held up well, with many patches of powder left from a storm earlier in the week. It was clear that the Basin will provide good skiing for several weeks.
The beauty of A-Basin and Loveland is the variety of terrain. A-Basin's famous Palivacinni face is full of steep-and-deep runs. Loveland has many out-of-the-way runs (sorry, we can't tell you where they are) which are a delight to discover.
As the weather warms, we can't think of a better place to be than mid-mountain at A-Basin, with the BBQ smoking, the reggae blasting, and the skiing at its best.
David Iler