April 24, 1995
On a snowy day on the last day in February, Denver International Airport finally opened its doors after several embarrassing delays. While DIA left the city of Denver with a black eye, it nonetheless marked a significant advance in transportation in the West. Denver and the Rocky Mountain West became home to the world's newest and largest airport.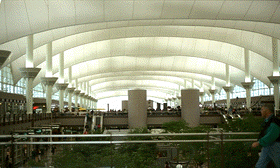 Over 65 years earlier, in February 1928, another transportation advance was heralded as the Moffat Tunnel opened. While the 6.2-mile tunnel to many remains merely a footnote in Colorado's history, its financing and construction was full of shenanigans.
The Moffat Tunnel cuts through the Continental Divide in north-central Colorado. It finally provided Denver a western link through the Divide as both Cheyenne to the north and Pueblo (Colo.) to the south enjoyed rail access to the West. Denver's politicos tried for many years, unsuccessfully, to procure financing for a rail tunnel. At least three times, a tunnel through the Divide was turned down at the state level. The tunnel was necessary, Denver claimed, for its "economic development," the same political mantra used to sell DIA.
In the spring of 1922, Denver's lawmakers in the state legislature found an opening, albeit a dastardly one. That spring, Pueblo was flattened by a devastating flood, and Gov. Oliver Shoup called an emergency session of the legislature. Denver lawmakers now held a powerful trump card. They would vote for emergency funding for the beleaguered town (an economic rival to Denver) in return for legislation authorizing the issuance of bonds for their tunnel. A political deal, as they say, was struck. On April 29, the Moffat Tunnel Improvement District was created. The following summer, bonds were sold and construction began. Some believe the resentment in Pueblo, caused by what essentially was political blackmail, lingers to this day.
All was not smooth sailing for the new district, however. In 1925 bad rock at the west end of the tunnel held up construction and costs soared. Three more bond issues were sold before the tunnel was completed. Although the original cost of the tunnel was pegged at $6.72 million, final assessments collected by the Moffat Tunnel district, including interest, were $23,972,843.
Political deals, lingering resentment, cost overruns — ah, progress! It was just as expensive and full of chicanery years ago as it is today.
David Iler