December 1, 1995
Denver's Union Station, once bustling with activity, is today a ghostly edifice, serving a small number of trains each week. However, passenger rail may once again become a serious transportation option in Colorado as a number of rail advocates push for "travel by train." Union Station, a landmark in burgeoning lower downtown Denver, would serve as the hub for a revitalized passenger-rail network.
Imagine stepping off a plane at Denver International Airport, boarding a train and zipping at 79 mph into Union Station. From there you board a train to Winter Park or Steamboat Springs, or, hop on Amtrak's train to Glenwood Springs (below). In Glenwood, Aspen would be a short train ride away. Forget about negotiating I-70 by car, which closed over 30 times last ski season. If a growing contingent of business and government interests have their way, travelers may be able to leave their cars at home and avoid Colorado's increasingly clogged highways.
Separately, the groups are diverse – Union Pacific Railroad, the Colorado Department of Transportation, a few local commissioners and rail advocates. Together, the group could be a formidable force in actually implementing the various plans. The key, of course, is funding. With a state legislature historically wedded to highway, automobile and gasoline interests, and with dwindling federal transportation funds, the challenge is stiff.
Potentially the most influential rail promoter is Union Pacific, which is pushing for commuter rail service from DIA to Union Station (the Air Train), as well as along several Front Range corridors, including Denver to Boulder. UP's commuter-rail advocacy is a marked departure from its position just four or five years ago. Then, said Ed Trandahl, regional director of public affairs for Union Pacific Railroad, if someone would've suggested the company was interested in commuter/passenger rail, "We would've laughed at you." The change of heart occurred, he said, because "We decided we could better use our assets." Some of UP's tracks "are not used to capacity" with conventional freight traffic, opening up the door for shared use by commuter trains. Also, the amount of right-of-way UP owns on some alignments allows for new rails to be built next to existing tracks.
While the Air Train from DIA has been discussed for several years, without much progress, the Colorado Department of Transportation is studying several alignments – Glenwood Springs to Aspen, Craig to Steamboat, Steamboat to Vail and Steamboat to Aspen. The Glenwood to Aspen line would follow Colo. 82, known locally as "killer 82," because of the frequency of accidents on the road. As Glenwood and Craig have become bedroom communities for people who work in Aspen and Steamboat Springs respectively, traffic to the resorts has become nightmarish. The DOT, according to Chuck Petersen, is working to prioritize two or three alignments, both statewide and along the Front Range, before proceeding with design work.
Petersen also expressed interest in seeing the Winter Park Ski Train, which runs from Union Station to Winter Park on weekends during the peak ski season, operate once or twice more during the week. The driving force for Petersen in promoting rail service is heavy traffic on the state's highways, particularly on the weekends. "We've got to think of other ways to get people there." The weekend drive on I-70 from Denver, which is the main thoroughfare to several ski areas, is hellish and often bumper-to-bumper both in the mornings and late afternoons. The experience can quickly deflate the good times enjoyed skiing. The I-70 dilemma has not escaped the tourism industry or the governor, but no concrete plans have been made. Talk of boring another hole through the Eisenhower Tunnel has circulated, but the cost of the scheme is outlandish. Steep grades along portions of I-70 preclude a rail line, said Petersen.
Widening Colo. 82 to four lanes has been discussed, but Roaring Fork Valley residents are vocally opposed to such a plan.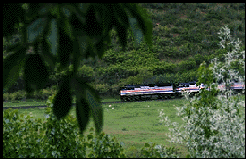 George Tolles of Steamboat, a commissioner with the Moffat Tunnel Commission, a group charged with overseeing the Moffat Tunnel (which provides a rail route through the Continental Divide just east of Winter Park), is pushing for a line linking Steamboat to Craig and eventually Steamboat to Winter Park. He pointed out that until 1966 or '67, a train ran from Denver to Steamboat. He'd like to see that line resurrected.
Reconnecting Steamboat to the passenger rail grid would serve two purposes: Getting tourists (mostly skiers during the winter) into Steamboat, and providing commuter service from Craig to Steamboat. Like many other resort towns, Steamboat's expensive housing forces workers to live in towns like Craig. The Craig-to-Steamboat passenger line would utilize existing Southern Pacific tracks which now carry coal trains.
Steamboat, said Tolles, is also experiencing the automobile blues, as tourist traffic often creates frustrating bottlenecks in town. "What we don't need are more cars here," he said.
Invariably when passenger rail service is discussed, the word "subsidy" pops up. Most agree that passenger rail cannot survive without some form of public assistance. But rail advocates agree that transportation subsidies are a matter of perspective. "There isn't any transportation system in the world that is self-supporting," said Tolles. Gas taxes and highway construction costs are both automobile "subsidies," rail supporters point out. "For a relatively small subsidy," said Trandahl, "you could have a first-class rail system in Denver."
Ultimately, automobile traffic to and from Colorado's resorts threatens the very qualities most travelers are seeking in the first place. "I don't know how bad things have to get," said Tolles. "There is kind of a crisis atmosphere."
David Iler