January 10, 1996
Riding up the gondola on Steamboat Ski Area's Mt. Werner, two resort staffers, one a ski patroller, turned a little ashen when asked, "Expecting any snow soon?"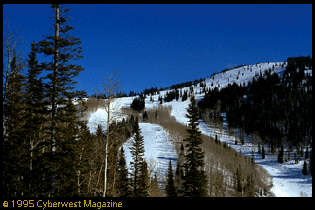 Not that conditions were all that bad for the weekend before Christmas. With a 36-inch base and a 3-inch dusting a couple of nights before, I wasn't going to ask for a refund. But, I've been blessed here before with heavenly, thigh-deep powder conditions. Few earthly experiences can compare with breaking fluffy powder in Steamboat's famous aspen glades.
"Nobody really knows when it's going to snow," came the reply after an uncomfortable silence. The two staffers then chatted nervously about the vagaries of predicting weather, bad snow years, snowmaking and cloud seeding. The ski patroller recalled a time many years ago at an Eastern resort when he shovelled snow out of the woods and onto ski runs. It would take unusually dry conditions for the patroller to be handed a shovel at Steamboat, where the average annual snowfall is 300 inches. But there's nothing like a few snowless days to tweak the composure of even veteran skiers. Not after tasting Steamboat's famous "champagne powder."
After January's welcome snows, including two days of 20-inch-plus storms and a base nearly 80 inches as of Jan. 24, December worries about snow have quickly melted.
Standing out as Colorado's northern-most ski resort, Steamboat is a sprawling mountain with all the bells and whistles resort-meisters now offer: A lively village, plenty of high-speed quad-chair lifts, gondola, and enough terrain, 2,500 acres and 107 trails, to allow for days of exploring. Steamboat also offers one amenity that can't be built or worked into a promotional budget: A real town that existed long before skiers flocked to the area. Steamboat is proud of its western heritage and it doesn't have to fake it; it's real.
Steamboat even has its own patron saint, former Olympian Billy Kidd, the director of skiing. Immortalized with a bronze statue at the base, Kidd takes a traditional run down the mountain most days, inviting us mere mortals to join him. Signs inform skiers: "Billy is skiing today," or "Billy is not skiing today." Reasons are not given for his absences.
Steamboat is a "destination resort," meaning at 3-plus hours from Denver via automobile, most visitors arrive for extended stays. The resort has successfully courted the week-long skier, and the skier mix on the mountain is composed of vacationing families, groups of college students, with a few locals and Denver skiers thrown in. But despite its amenities and huge mountain, Steamboat has somehow avoided the movie-star crowd, unless, that is, they're keeping an extremely low profile.
With less-than-stellar snow conditions (by Colorado standards) in mid-December, Steamboat was still able to provide an excellent ski experience due to deft snowmaking and its dry climate. This capability – maintaining good snow conditions when the snow gods are sleeping – separates the men from the boys. Steamboat, with a little help from Mother Nature, measures up just fine. Snow on Mt. Werner just seems to last longer than it does elsewhere. Plus, Steamboat's snowmaking artillery is formidable with all types of snowguns blasting away.
With a north- and west-facing slope, most of Steamboat's terrain is shielded from direct sun, contributing to the snow's staying power. During my two-day stay, I found windy conditions which directed loose snow into the troughs of moguls, providing soft turning in what initially appeared to be crusty terrain. The beauty of an extending stay at Steamboat is experiencing the mountain as it slowly changes – from early morning crust to mid-afternoon softness.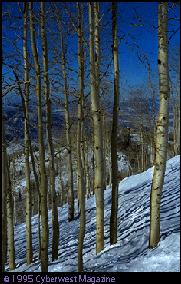 The top half of Steamboat's Mt. Werner is where the action is, with fantastic tree-skiing, wide-open cruisers and plenty of bumps. The aspen groves between Storm Peak and Sunshine Peak are glorious temples of glade heaven. These trails are rarely crowded and the aspens are spaced perfectly, allowing for comfortable quick turns. There's something magical about carving turns in quiet aspen groves, and Steamboat delivers this experience perhaps better than anyone.
Curiously, Steamboat's gondola only traverses to mid-mountain, but two high-speed quad lifts, Storm Peak and Sundown, quickly transport skiers to the summit. The views from the summit are spectacular as the funky contours of the Yampa Valley below are endlessly fascinating. Mt. Werner is part of a rather isolated range of mountains, and the views extend to the heart of the Great White North into Wyoming.
In the grand picture of Colorado ski resorts, Steamboat stands by itself, not only by the character of its ski hill, but by its isolation. With the nearest ski area an hour and a half away, Steamboat doesn't offer the variety of Colorado's central mountains, where resorts extend from Loveland to Beaver Creek along I-70, with Keystone, Breckenridge, Copper Mountain and Vail in between. Still, Steamboat's famous conditions and authentic town stand alone in Colorado. For either out-of-staters flying in or adventurous Denver skiers making the long drive, Steamboat's rewards are well worth the trek.
David Iler