March 11, 1996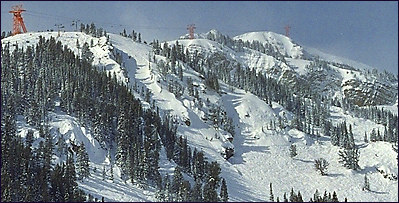 Wyoming is famous for its wealth of dinosaur fossils, ancient reminders of a wild and woolly past. Wyoming's two premier ski resorts, Jackson Hole and Grand Targhee, might be considered fossils, but to a skier pampered by high-speed quad lifts, groomed runs and artificial snow, Wyoming is a breath of fresh air. Here, on either side of the Teton Range in northwest Wyoming, a skier is truly challenged by two raw, mighty ski mountains where steep faces, tons of snow and windy conditions quickly separates the adventurous skier from the pretenders. If ever there were two neighboring ski areas where one could dramatically improve their skiing ability over the course of a season, Jackson/Grand Targhee is the place.
With a 4,139-foot vertical drop, 2,500 acres of terrain, and in late-winter a base of over 120 inches, Jackson Hole is an expert skier's dream. Ninety percent of Jackson's runs are expert and intermediate. Chutes, cliffs and powder fields are plentiful here. While many ski areas have recently opened steep terrain, touting an "extreme" experience, Jackson Hole is the godfather of extreme skiing.
From the very top of the mountain, accessed by the aerial tram, the terrain is daunting. Up here, there are no moderate trails to warm up. It's sink or swim in a sea of Wyoming snow. The top half of Jackson is where most of the area's wild terrain and dryer snow conditions can be found. Lower on the mountain, the Casper Bowl chair offers skiers several intermediate runs, some of which are groomed. But Jackson's groomed slopes are, thankfully, not as lavishly manicured as at other resorts, keeping them challenging.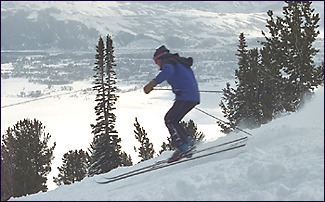 Since many of Jackson's runs face south, with direct sun hardening the snow a bit, a rigorous morning schedule will reward the skier with good conditions.
The snow during our visit was especially tricky. In some places it was soft powder, in others it was wind-blown and crusty, in still others it was icy. This combination of snow conditions forces the skier to execute precise turns and stay focused on the terrain. The snow is a little heavier and wetter than the Colorado variety, but the awesome coverage and challenge creates a ski experience far different. The intermediate runs here seem a little more difficult than elsewhere. Unlike many resorts, Jackson is a rugged mountain first, a ski area second. Skiers here are merely privileged visitors.
With today's resorts trying to be all things to all skiers, Jackson is comfortable with its reputation as an advanced skier's mountain. "You use the terrain God gave you," said Jim Gill, executive vice president and general manager for Jackson Hole Ski Corp. "We can't produce a lot of low-intermediate terrain."
While Jackson's most famous image is of the Grand Tetons looming like ancient totems over the Snake River Valley, the high Tetons remained shrouded during our visit. Yet just knowing they were there, unseen and dramatic, created a sense of mystery. We had earned our view of the Tetons by skiing the mountain, but alas, the spirit of these rugged mountains kept them cloaked.
Just over Teton Pass to the west, roughly an hour from Jackson, is an unheralded treasure, Grand Targhee. The operative word at Targhee is snow. It receives over 500 inches of snow a year and it's not unusual to see trees buried to their crests in snow. At the summit, several trees were frosted white, blasted by the abundant, slightly heavy and wet powder.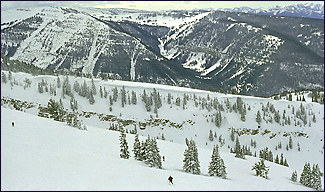 Targhee's configuration is simple. Two lifts, on the north and south side of the area, reach the top. A third reaches halfway from the base. With 1,500 skiable acres, Targhee offers plenty of terrain to explore, much of it untouched powder. While open bowl skiing predominates, several gladed areas offered us knee-deep powder.
To reach Targhee from Jackson, one must actually sneak into Idaho before heading back into Wyoming. Targhee has a great, western ambiance. It's a haven for locals from both states, particularly Idaho. (The next time someone tells you they're a Wyoming/Idaho skier, treat them with respect; they're excellent skiers.)
Using the word "resort" at Targhee seems a crime. It retains a folksy atmosphere, down to the lift attendants who are not young ski bums, but potato farmers from the valley below. Skiers here don't speak in European accents, as many do in Jackson.
The town of Jackson, about 12 miles from the ski area, is a tasteful village, with many shops and galleries. True to the surrounding area, the town reflects a cowboy, western heritage. The Million Dollar Cowboy Bar is well worth a visit. Snow King Ski Area (a small but steep 400-acre ski hill) is right in town. Jackson's nightlife is relatively subdued for a "resort" town, while Teton Village at the base of Jackson Hole Ski Area is a bit more lively. Both Arlo Guthrie and Merle Saunders both played this season at the Mangy Moose in Teton Village.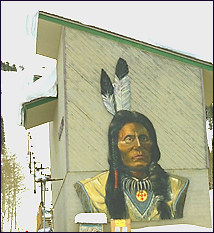 Hard-core skiers, especially powder hounds and extreme skiers, will find it hard to beat Jackson Hole/Grand Targhee. These areas have forsaken the glitz and bright lights in favor of a rugged, old-fashioned ski experience.
David Iler