March 11, 1996
(Editor's note. This is the second part of Christopher O'Brien's article about one of the West's most fascinating areas. Straddling south-central Colorado and northern New Mexico, this valley has spawned generations of incredible tales. We continue … )
What wasn't reported
Several San Luis Valley reports from this the 1970s are especially intriguing. According to local law enforcement officials, there were several alleged episodes of helicopters chasing cars away from areas where cattle were found mutilated. In another incident, a carload of people claimed to have witnessed a helicopter next to a cow lying in the road. They reported a man leaning over the cow and metal tubes protruding from the animal which lay directly in front of a particular Costilla County (Colorado) rancher's house. This rancher, Emilio Lobato, Jr. lost an incredible 47 head of cattle during a two-week period in October, 1975. Seventeen animals were "mutilated," the rest were either "shot or stolen." One animal was even found over 20 miles away from his ranch.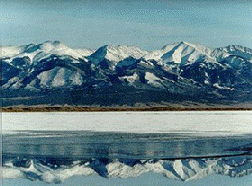 Local law enforcement officials and area ranchers claim that helicopters used in at least some of the mutilation runs in the mid- to late '70s were landing at the Taylor Ranch, a 77,000-acre area in the mountains of Costilla County. This, to my knowledge, is the first time an individual has been publicly linked by law enforcement officials as possibly being involved in the unusual cattle death phenomenon in any of the thousands of unsolved cases across North America during the past 27 years. According to ex-Costilla County sheriffs Ernest Sandoval and Pete Espinoza, "Jack Taylor knew what was going on; they (the helicopters) were seen using his ranch." The locals and Taylor had engaged in a running feud since his controversial purchase in 1960 of the huge ranch that was supposed to be one of two public commons areas in the country, the other being the famous Boston Commons in Boston, Mass. Taylor was shot at the ranch in 1979 and died several years later. Curiously, the mutilations ceased (officially) in Costilla County until 1992.
The three hardest-hit ranchers in the San Luis Valley, all "teachers at the same school," claim to have lost 17, 19, and 22 "mutilated" cattle over the years to the mystery surgeons. They claim other ranchers have also been hit repeatedly for years but never report them. "Every ranch in Costilla County had at least one 'mutilation' case," said Espinoza, who investigated many of them during his eight years as a Costilla County sheriff and deputy.
Official "mutilation" reports curtailed sharply in the entire San Luis Valley in the early to mid-'80s. However, there is ample evidence to suggest this activity continued at a reduced level and was simply not reported to authorities by ranchers. There are several genuine "classic" cases from the '80s including a bull found in Moffat, Colo., June, 6, 1980. Since November, 1992, there have been almost 30 reports of unusual cattle deaths in the greater San Luis Valley area. The cattle surgeons are still at work.
They're back …
This mysterious and remote area of the Rocky Mountains continues to have unexplained sightings of unusual craft and lights, and the local population, by-and-large, agrees that something is going on in the San Luis Valley. During the onset of an intense UFO flap period last November, 1993, numerous multiple-witnessed (day-and-night) sightings of a silent, large silver sphere with blinking red-and-blue lights sequencing around the bottom, pairs of orange orbs flying through the sky, a large triangular-shaped craft hundreds of feet in length, all were reported within the confines of this large remote valley.
On Sunday night, Aug. 21, 1994, 20 witnesses watched a formation of 12 objects, flying leisurely over Del Norte, Colo., form the letter G, then a triangle, then a circle, as they drifted southward. After watching the mystery objects for almost an hour, one of the objects peeled off from the main formation and headed down through the clouds toward the group of witnesses. As it approached, they could discern structure and sequencing red and blue lights flashing on the underside of the craft.
Bigfoot
Over the course of my investigation into paranormal occurrences in this valley, I have stumbled onto rumors and legends of bigfoot-type creatures that have circulated here since the 19th century. Until now I have never uncovered what I consider to be a documented sighting of these elusive creatures. According to local law enforcement, during the last half of the last week in December '93 and the first half of the first week of January '94 there were seven reported bigfoot encounters in a 7-square-mile area in the northern New Mexico portion of the San Luis Valley. These encounters include a trucker spotting and reporting a large, hairy creature seen near the highway, a sighting of an extremely rare white bigfoot, another sighting of a bigfoot that appeared to be "stalking a herd of elk," and an encounter with a large two-footed creature that ran right by a ranch house and allegedly tossed a dog over a 6-foot high fence.
On Dec. 31, 1993, two sets of tracks were discovered by chance in a remote area and reported to authorities. Video tape was taken by a law enforcement official of these tracks (one 21 inches in length, the other 18 inches) descending over a variety of terrain snow, mud and rocks, side-by-side for several hundred yards down a steep cow path. Several of the tracks were pristine, even showing "toe-nail marks."
During this seven-day time period a "high-strangeness" report was filed to authorities by a distraught mother and son. The two claimed to have been driving back from the mountains at dusk when they rounded a curve in the road and came face-to-face with what they described as a tall, dark, hairy creature with large pointed ears and large glowing eyes. According to their account, as related by the sheriff, the creature didn't resemble a bear, it had "long arms that dangled well below its knees." Not knowing quite what to do, they put the car in reverse and tried to turn around. This evidently scared the creature which "dropped down on all fours and ran away like a dog!" Both witnesses were very shaken by their close encounter which was taken seriously by local law enforcement who mounted a search that turned up nothing.
Strange creatures have been seen for many years in the San Luis Valley. One story claims individuals in the '60's found a "platypus" in a high mountain lake in the Blanca Peaks area.
The devil
One of the more bizarre apparitions to be reported is the legendary devil, or "Old Scratch" as some of the locals have dubbed him. This enigmatic entity has been reported for almost 100 years and has puzzled Espanola Valley and San Luis Valley residents with his legendary public appearances, sometimes in front of dozens of witnesses, usually during the later stages of the Lent season.
The stories/legends all have the same general theme. A tall, handsome, well-dressed stranger enters a cantina where patrons are drinking and dancing sinfully during Lent. He immediately zeros-in on the prettiest girl and mesmerizes her with his lively repartee. He asks her to dance, and as she dances she begins to act with immodest abandon on the dance floor. At this point, usually the locals start to notice something amiss with the young miss as she gyrates with the stranger (who is generally described as wearing a white or off-white tuxedo). Then, this is where the accounts become unique. As legend would have it, the stranger has been said to throw off a glove and reveal a claw, or kick off his shoes and reveal cloven hoofs, and even one report that had a devil's-tail pop out of his pants! The locals then give chase and usually "Old Scratch" heads toward the back of the building outside and vanishes, leaving no tracks.
This mystery visitor, it is said, tends to make several appearances during a chosen Lent season. One series of sightings in the 1930's mentions him as being an unknown musician sitting in with local bands. Another tells of a man grabbing "Old Scratch" before he could make his escape. Supposedly, the "now pious man" received deep, claw-like, scratches that left permanent scars on his face. The devil's last flurry of alleged visits occurred in 1984.
Mystery woman in red
In the spring of 1992, the uncle of the police chief of a northern New Mexico town insisted on reporting the following event. He claimed to have been driving into town late one night (during the last week of Lent) when he saw a woman dressed in a red evening dress walking along the road. He stopped to offer her a ride into town. She climbed into the front seat of his pickup truck, and as he turned to ask her why she was walking on a deserted road so late at night, he noticed she had "hairy goat legs and hoofs." She then instantly de-materialized from the front seat of his truck. "If it had been anyone else but my uncle, who is a very devout, stable man, I would have asked them what kind of tequila they'd been drinking," said the very puzzled police chief who hesitantly related to me his uncle's story. "I tried to talk him out of it, but he absolutely insisted on filing an official report" concerning his supposed encounter.
Are San Luis Valley residents just imagining these bizarre objects and entities? Are the many cows that have been found "mutilated" in this remote area simply exhibiting the effects of unusual scavenger action? If I had not seen more than a few of these animals and objects personally, I would be hard-pressed to believe these reports, but it appears there is, and probably always has been, something very strange going on here in the mysterious San Luis Valley, one of America's most anomalous regions.
Christopher O'Brien
Photo © 1996 by Perla Kopelhoff
Christopher O'Brien lives in and has personally investigated and researched the San Luis Valley for five years. His book, "The Mysterious Valley," St. Martins Press, will be published in mid-1996. He publishes a bi-monthly report concerning reports and analysis of anomalous activity reported in the San Luis Valley. For more information write: TMV, PO Box 223, Crestone, Colorado, 81131.
If you missed Part I of "The Mysterious Valley" in the last issue of Cyberwest Magazine, click here.