July 31, 1996
One of the West's many "Mountain Man Rendezvous" recently took place in Grand Lake, Colo., with a full "encampment" set up on the southern edge of town. While this beautiful little town was teeming with bright, happy tourists who visited the mountain men, watching intently at black-powder demonstrations — the locals snickered. On the northern edge of town, they pointed out, was a full RV park, the modern covered wagons of today's mountain men. It seems that after the tourists left the impressive rendezvous encampment, the mountain men also departed for the comfortable sanctity of their humble Winnebagos. So much for sleeping in hollow logs.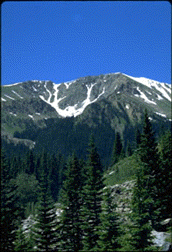 The vast forests around Grand Lake, however, are full of countless miles of excellent hiking/backpacking trails that deliver the real thing — lush Rocky Mountain high-altitude splendor. Well-known as the western gateway to Rocky Mountain National Park, Grand Lake is surrounded by public lands. To the west is Arapahoe National Forest, to the east and north is RMNP. Miles of old logging and mining trails take one far above Grand Lake and deep into the forest.
Bowen (pronounced "Bone" by locals) Gulch Trial is an excellent hiking trail which begins in RMNP and winds its way into Arapahoe National Forest. Throughout the length of the trail, we encountered no other hikers, despite our visit in the middle of July. Towering spruces, some nearly 400 years old, provided a towering canopy for a dense undergrowth. Snowmelt from the high country and nearby Continental Divide filled streams with rushing water. This eight-mile (one way) trails leads to Bowen Pass and the foot of Bowen Mountain. Approximately six miles from the trailhead is a trail which takes one to Blue Lake. Bowen Mountain (right) looms to the west. This trail is an excellent choice for an extended backpacking trip, as it leads to the isolation and haunting beauty of the Never Summer Range.
Another way to access the middle of this trail is by driving from Grand Lake to Bowen Gulch Loop in Arapahoe National Forest (the final two miles of the road leading to the loop are best traveled by a high-clearance vehicle). Just beyond the trailhead is a small stream which eventually leads to the Bowen Gulch Trail. While trailblazing or bushwhacking is not recommended and is probably frowned upon by the Forest Service (and, most likely, black bears and mountain lions, whose scat was very much apparent), this route leads one into an incredible world of old-growth Rocky Mountain forest, with ancient spruces and a vast undergrowth untouched by humans.
Following the descending stream downhill, we leapt over huge fallen trees, pushed aside abundant ferns, and stepped lightly into spongy moss. The stream eventually poured into a much faster moving stream. Finding a good place to cross it was difficult, but eventually we found an old fallen tree that offered safe passage. Another 200 yards and we found the Bowen Gulch Trail. The cutoff to Blue Lake was a few miles to the west.
Looking southeast from the Blue Lake Trail, one can see the solid dark-green mountainside that eventually leads back to Bowen Gulch Loop. We traced our route through the forest, and realized that a wrong turn here or there and one could be lost nearly forever. Looking across the vista, we wondered if any mountain men had ever lost their way in this vast forest, only to stumble into Grand Lake half-crazed.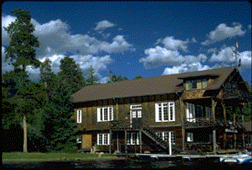 Grand Lake is one of Colorado's few natural lakes, and it's bordered by the much-larger Shadow Mountain and Lake Granby reservoirs. Well-known as the western portal to RMNP, Grand Lake has managed to retain a certain western charm despite the park's multi-million visitors, most of whom enter from the east side via Estes Park. (Pictured here is a boathouse on the shores of Grand Lake.) A boardwalk along the main drag adds a quaint touch, and cowboy "hosts" in the local bars make middle-aged female tourists blush. Locals complain about Fourth of July visitors whose auto-theft alarms went off during the fireworks display. But historically, Grand Lake and the surrounding Middle Park have always been somewhat removed from Colorado's major avenues of commerce and industry.
Indeed, the definitive book of the history of the region is entitled "Island in the Rockies," by Robert C. Black III (Boulder: Pruett Publishing, 1969). While various attempts were made to make Middle Park a transportation and mining center, it's main mode of commerce was, and remains, tourism and recreation.
For the hiker, and in the winter, the backcountry skier, the Grand Lake area is the gateway to miles and miles of untamed Rocky Mountain forest, left, thankfully, much the same as when the first white men gazed upon Middle Park.
David Iler