October 21, 1996
The other day we took a leisurely drive down the most breathtaking coastline in America, lunched in a sleepy little village, and then lazily drove through a sunny countryside of rolling hills, visiting a variety of small vineyards and tasting magnificent wine. We were received warmly by the carefree but knowledgeable wine-tasting staffs who set before us a mind-boggling array of excellent wines. We joked and conversed with them and learned a great deal, as we were often the only guests. Sound like a day in California's famous Napa or Sonoma Valleys? Not quite.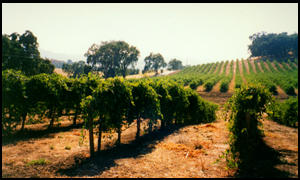 The Paso Robles wine country in San Luis Obispo County, part of the up-and-coming California Central Coast, is the best-kept secret in the wine industry. The Paso Robles area has been in the business since 1882 when York Mountain Vineyards was established. However, most of the wineries in here are much younger. Off U.S. 101 between San Francisco and Los Angeles, Paso Robles is easily accessible from either metropolis, and offers a much more laid-back, casual experience than big brothers Napa and Sonoma.
Our tour of this enchanted area began in Cambria, south of San Simeon, where we spent the night at the Bluebonnet Inn which, in the height of the summer tourist season, offers doubles for $75. Catch them off-season for a better deal. The Bluebonnet doesn't have phones in the rooms, but you might talk the proprietor into a wake-up knock. We got a late start, but it was okay as most of the tasting rooms in Paso Robles are open until 5:30 or 6 p.m. The day started with a patio lunch in Harmony, a sunny vineyard village with a population of 18. We found our old friend Sir Charles of Harmony, a British chap who owns an art gallery in Harmony, sitting on his usual bar stool in the pub.
After lunch, we headed east on Calif. 46 from Calif. 1 to York Mountain Winery. We took a long, winding drive off Calif. 46 up to the top of York Mountain. The higher we climbed, the more I anticipated in my mind a large, palatial setting. What we found was far from grandiose. The tasting room was contained in an rickety, wooden, barn-like building. A sign warning "Dogs Must Be Restrained At All Times" was posted in lieu of a welcome mat.
The three of us stumbled in from the dusty, sun-drenched driveway into the dark, musty tasting room. We were the only visitors there. The man behind the tasting counter, Mel Hearne, welcomed us in and began rattling off our tasting choices like an auctioneer. We went through about eight wines, from cabernet sauvignon to sherry, sniffing, swirling and swallowing, as Mel amused us with various anecdotes. We particularly enjoyed the red zinfandel, which is York's specialty. When asked what his favorite wine was, Mel quipped, "I like 'em all. Hell, MD 20/20 is my favorite when it's the only thing in the house." He was kidding, of course, but would any sane Napa wine snob be caught dead making a joke like that? I left with a bottle of zinfandel and a table red under my arm.
Our next stop was Creston Vineyards. As we pulled into the driveway off Vineyard Drive, I thought we had made a wrong turn. The Creston tasting room is contained in a simple, small white house with a carport in back, and appeared to me to be a private residence. A closer look revealed that we were indeed in the right spot. Inside the tasting room we again found friendly staff who indulged us willingly. One young staff member was eager to show us the new label on the '91 cabernet sauvignon. It depicts an old man smoking a home-rolled "cigar," he explained with a wink and a chuckle.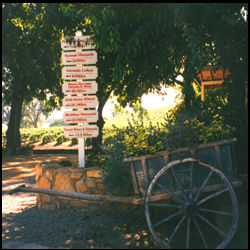 Onward and upward, we headed north on Calif. 101 and west on 24th St. toward Justin Winery. After the long drive down a winding road we were glad to be out of the car, but not for long. Our only negative experience in Paso Robles came with our visit to Justin. Once we actually found the tasting room, we were treated coolly by the middle-aged, aloof staff. And, for the first time in Paso Robles, we paid a $3 tasting fee and were limited to tasting three wines. We left Justin without purchasing any wine.
Nevertheless, our tour of the Paso Robles wine country ended on a good note. Our last stop was Tobin James. Walking into Tobin James felt like walking into a frontier saloon. (Rumor has it that Tobin is a relative of Jesse James.) We were greeted at the door by the two resident Australian shepherds, Jesse and Cisco, who vied for our attention. Standing behind the 100-year-old wooden bar was a friendly, attractive young woman ready to pour the wine. Perhaps the ambiance enhanced the flavor, but Tobin James offered the best wines we tasted all day. We departed sadly, but took home two bottles of the '92 James Gang Reserve Cabernet and a '94 Syrah.
Overall, the trip to the Paso Robles wine country was a fascinating learning experience and great fun. It was an adventure, as opposed to a controlled tourist experience like Napa. But, how long will that sense of discovery and adventure last? Many of the wine makers on California's Central Coast are young, daring, willing to make mistakes in search of excellence. They seem more concerned about making great wine than about marketing wine. Unfortunately, Napa and Sonoma have climbed aboard. Presently, 75-80 percent of the grapes grown in the Central Coast are purchased by northern wine makers. Napa bigwigs like Robert Mondavi and Beringer already have labels established in the Central Coast region. Paso Robles may not remain the California wine frontier for long as the southern manifest destiny continues. I just hope that, years from now, I'll still be greeted at the door by Cisco and Jesse.
Story and photos by Laurel Chesky