January 12, 1997
Light years from the corporate ski resorts along the I-70 corridor of central Colorado, Purgatory and Wolf Creek offer a divine reward for a little extra travel time — a touch of ski heaven.
Perched near the summit of one of southwestern Colorado's most daunting passes, Wolf Creek Ski Area, on U.S. 160, is blessed this year with storm after storm of deep snow. Snowmaking here is courtesy of the snow gods, who most years (1995 wasn't one of them) dump avalanches of powder on this small area. With a summit elevation of 11,775 feet, this is high-elevation, raw skiing without frills. The lifts are slow, the runs are relatively short, but the powder is unmatched.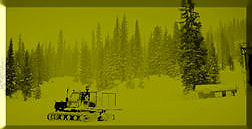 The area itself is rather small by Colorado ski resort measurements, over 800 acres, but what's lost in size is compensated by a rugged ski experience which will challenge most skiers.
Wolf Creek, for us, was meant to be a warmup as we headed west toward Purgatory Resort north of Durango. It was that and much more. Knee-deep powder, a ferocious wind and a non-stop pelting of slightly wet snow challenged us with mid-season conditions in early December. The snow came down in frozen little pellets, which blanketed the mountain in slightly heavy powder. Untracked powder was everywhere and skiers were few and far between.
Little, if any of this mountain is groomed. In fact, the only snowcats we saw were those that shuttled skiers from the devilish Water Fall Area. This portion of the hill is composed of three double-black-diamond runs — gladed and very steep with unexpected drops and dips. These runs deserve their double-black-diamond rating and are full of unexpected dips, mini-cliffs and steep gullies.
Most of Wolf Creek is intermediate and expert terrain. However, the huge snowfall tends to flatten out a few of the intermediate runs. At the same time, the effort required to negotiate the powder makes each run seem a little longer. If you run into someone who grew up skiing at Wolf Creek, respect them as an accomplished skier, used to the blustery conditions and precipitous terrain of high-altitude skiing.
In the heart of southwest Colorado's San Juan Mountains, Purgatory Resort is a refreshing, down-to-earth ski hill that blessed us with ideal conditions — blue skies and fresh powder. Purgatory is spread wide horizontally, and is a superbly designed mountain. It's easy to get back and forth across the hill and restaurants are intelligently located on the mountain, allowing skiers to remain on the hill for lunch. An intermediate skier's paradise, Purgatory offers many, wide cruiser runs, together with some decent, rather tame glade skiing. With 1,200 acres, slightly over half of Purgatory is intermediate. Its vertical drop of just over 2,000 feet ensures long, satisfying runs.
Expert skiers and those looking for steeps have to look a little harder on the mountain and underneath lifts for thrills. A few of the locals complained that Purgatory doesn't have enough expert terrain, while one proudly pointed out his fresh tracks over a neat little 15-foot jump under a lift.
The Legends lift, to the far right as one faces the hill, is home to some of the best expert terrain at Purgatory, with Bottom's Chute and Paul's Park standing out. Sally's Run, served by the Legends lift, is a classic intermediate run.
With a base elevation of 8,793 feet, Purgatory is not nearly as exposed to the elements as Wolf Creek. Purgatory's personality is decidedly understated, with many college students from Durango's Ft. Lewis College, plus "destination" skiers from Phoenix, Albuquerque and Texas.
In this day and age of the "mega-resort," with once distinctive mountains like Breckenridge being swallowed up by corporate owners intent on putting as many people on the hill as possible, Purgatory and Wolf Creek offer a different type of skiing.
Somehow, dying and going to Purgatory doesn't sound so bad.
From Denver, Wolf Creek is a minimum five-hour drive, depending on conditions. Purgatory, almost 30 miles north of Durango, is about eight hours from Denver.
David Iler