November 16, 1997
After bumping along a rutted dirt road, a short hike through piñyon-juniper forest brought us to the edge of Canyon de Chelly. The sun filtered through patchy clouds, casting a surrealistic light on Spider Rock and the surrounding canyon walls. Standing near the edge, a spiritual feeling engulfed me, and I realized why Spider Rock is sacred to the Navajo.
During the summer, Navajo families still live and farm the bottoms of Canyon de Chelly, Canyon del Muerto and Monument Canyon, all of which make up Canyon de Chelly National Monument in northeastern Arizona. Because the Monument is part of the Navajo Nation and contains artifacts and ruins of prehistoric Pueblo Indians, anyone traveling in the canyons must be accompanied by either a park ranger or an authorized guide with a permit. The hiking trail to White House Ruin is the only exception.
Rather than an inconvenience, traveling with a Navajo guide is extremely interesting. Lupita, a traditional Navajo, has been our guide over three years of hiking visits. She has shared not only stories of the canyons and their ecology, but also a glimpse into Navajo culture. To complete our Navajo experience, we stayed near the head of Canyon del Muerto in Tsaile, Arizona, at Coyote Pass Hospitality, a bed-and-breakfast in traditional Navajo hogans.
Evening found us around a campfire, listening to Will, our host, weave stories of Navajo culture. He told us how Navajos greet each other by stating their names and clans. We sat spellbound as he spun the first part of the Navajo creation tale. I could have listened to Will's lyrical voice for hours. Unfortunately, sleep was a prerequisite for hiking into the canyon the next day. The 6-sided hogan cozily contained blanketed mattresses on a dirt floor with a water jug and painted flower porcelain bowl on a nightstand for a sink. The outhouse stood about 30 yards away.
Morning dawned with the sun shining on the east-facing hogan door. Per tradition, the sun must find you awake to count you among the living. Effie, our hostess, served breakfast at the picnic table outside with a new bill of fare each day. One morning we had blue cornmeal mush and cabbage burritos while another morning's fare was blueberry pancakes and hard-boiled eggs. Then we were off to meet Lupita for the day's adventure.
Getting to the trailhead was often an adventure in itself. Several hikes started from dirt roads along which Navajo families live on Middle Mesa. About 10 miles of rutted dirt road made us very thankful for the convenience of pavement. We always kept an eye on the weather, as the clay roads often turn to impassable slimy goo after a rain.
We reached the turnoff for Mountain Mahogany Trail leading to Mummy Cave. This road required a 4WD and was just wide enough to let our vehicle pass between trees. At the rim of a side canyon leading into Canyon del Muerto, Lupita warned us that the trail had many loose rocks. Once used heavily by Navajo herding their sheep to and from the canyon bottom, lack of recent use had left the trail to the forces of nature. This summer had been extremely wet, so the trail had even more rocks than usual. We descended, sometimes steeply, on a narrow trail through piñ, juniper, Douglas fir, mountain mahogany and scrub oak. At one point the trail traversed the base of a huge wall of De Chelly sandstone, ancient sand dunes and deposits from over 230 million years ago. Across the canyon, an ancient ruin stood forlornly in an alcove. Stopping by a juniper tree, Lupita told us how the Navajo used to soften the bark for babies' diapers.
After descending about 800 feet, the side canyon widened. Cottonwood trees dotted the landscape. Lupita mentioned seeing a bear there once. We carefully watched our steps as prickly pear cactus and yucca lined the trail. We entered Canyon del Muerto, complete with a creek full of water from the recent rain. We gingerly jumped across it, while curious cows watched. Mummy Cave appeared in two huge alcoves ahead of us. An impressive structure, with logs still protruding, separated the two areas. We stood in awe, wondering about the people who once occupied this place. A porcupine rested in the cottonwood tree behind us. A fence prevented us from entering the ruin. Lupita mentioned that most Navajo stay away from ruins. They belonged to someone else, and bad spirits may dwell there. A Navajo who enters an ancient ruin without the proper blessings may later suffer an illness or other problems. A healing ceremony would be needed to cleanse the offender.
Another day found us hiking to the bottom of Canyon del Muerto from the North Rim. We were on Bare Trail, aptly named for the slickrock on which we walked. The sun shone brightly on the red sandstone, layered in steps at times and steeply rounded at other places. Footsteps were sometimes carved in the rock, a reassurance on the steeper sections. Curving down the ancient sand dunes, we sometimes slid on our butts. Lupita pointed to a light streak in the nearby rock, where kids sit on flat rocks and slide down, a natural playground. We looked down on two green farms. On one side ancient cliff dwellings and rock art appeared behind the fields. We reached the canyon floor and removed shoes and socks to wade back and forth across the creek, cool, wet sand squishing between our toes.
We stopped to rest under some stately cottonwood trees. The canyon bottom is lined with cottonwoods, coyote willow, tamarisk and Russian olive. The latter two are introduced species, which grow like crazy and crowd out the natural willows. Both absorb a lot of water in this arid country. The roar of a big truck engine rumbled down the canyon. An old army 4×4 filled with tourists bounced by us. Lupita called them "shake and bakes" — the ride shakes you while the hot sun bakes you. We walked a little farther downstream for lunch. We talked about differences and similarities in our cultures. Lupita shares her culture with the bilagá, white people, so that we might understand. Although many Navajo are bitter about the treatment they've received from white people over the years, Lupita's grandfather taught her not to be angry. The white people who subjected the Navajo to the Long Walk (a forced march to New Mexico) were our forefathers, not us. We willingly listened and shared our culture with her, too.
While hiking on slickrock, we asked Lupita how Navajo children learn to climb so readily. She told us that when she was about four years old, her parents left her and her sister on a slickrock trail and told them to find their way home. This act was not child abuse, but a way to help their children learn to live in their environment. One hike took us along that same trail. Not being fond of exposure and heights, we found the Yeibichai Trail from Middle Mesa into the canyon a bit exciting. Lupita showed us where she and her husband park their pickup truck and throw wood over the cliff to her land below. The wood doesn't require much chopping after a 500 foot fall! The trail starts out innocently enough, past a few piñ and junipers, down rock ripples. We passed a collapsed hogan, a birthing hogan, used for years by women in the canyon. When they went into labor, they climbed 500 feet up the Yeibichai trail to give birth! Tree and rock gardens speckled the top part.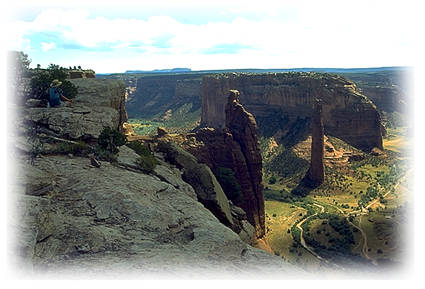 We ate lunch in the shade of a small cliff. Then the fun began! The trail followed footsteps carved in the sandstone. A cable appeared, then as the trail steepened even more, a knee-high metal handrail provided some welcome security. Incredible views rewarded our efforts. Once on the bottom, we walked across Lupita's land. We scrambled up to some storage granaries on a ledge in an alcove. No handrail on this trail, only some carved footsteps. Lupita talked of her childhood, and how they repaired the granaries each year and stored dried apricots and grains in them. In the summer, she lived in the canyon. When she awoke, she climbed up the Yeibichai trail to bring milk from their animals down for breakfast. She hiked back up to herd sheep until heading down for lunch. Hiking up again in the afternoon she herded sheep until evening brought her down to the canyon bottom. As we toured her land, Lupita showed us some petroglyphs chipped into the cliff probably 1,000 years or more ago.
Humans first inhabited these canyons about 2,000 years ago, abandoning them around 1300 AD. The Navajo have called the canyons home since the mid-1700s. One day as we stood at the base of Spider Rock, an 800-foot sandstone monument, backlit in the sun, Lupita told us how she comes here in times of trouble to seek spiritual guidance. For even us bilagáanas, Canyon de Chelly is indeed a spiritual, magical, and beautiful place.
Story and photos by Maryann Gaug