April 24, 1995
A cultural crossroads
Crossing the border into New Mexico from Colorado, one is taken by the vastness of this slice of American West. The lands of northern New Mexico, cut by the deep gorge of the Rio Grande River, have been visited by strangers for thousands of years. Anasazi, Taos and Pueblo Native Americans; Spanish conquistadors and missionaries; frontiersmen, such as Kit Carson; and skiers, hikers and rafters have all been charmed by this intriguing land.
Today, the high valleys and plains in the shadow of the Sangre de Cristo mountains combine Native American, European and cowboy influences to create an enchanting atmosphere. Visitors can't help but be immediately transfixed by the blend of adobe architecture, European Catholicism and mythic Native American lore. Yes, Taos is technically in the United States, but it seems worlds apart.
Taos Ski Valley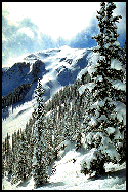 By directing plenty of dry snow to the steep mountains around Taos, Mother Nature has created a skiers' paradise. Tucked away in the canyons outside of town, Taos Ski Valley enjoys an average snowfall of 320 inches. Its legendary slopes hold the light snow well into April. A visit here early in the season was the highlight of a great year of skiing.
Taos Ski Valley was founded by Ernie Blake, who arrived in the area in 1954 with a vision of creating a skier's mountain preserving the Swiss Alpine experience he enjoyed as a youth. He chose this area after an extensive aerial search.
The long 1994-1995 ski season at Taos ended in early April, but with a snow depth of well over 100 inches as the area closed, visitors to the Taos area will be treated to a snowy mountain vista well into spring.
The town of Taos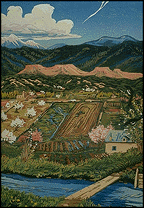 Taos is famous as a mecca for southwestern art and offers an eclectic array of shops, galleries and restaurants. Ironically, peak season (winter and spring) at the ski area is off-season in town. Spring is an excellent time to visit, as the summer crush can dampen the overall experience. The road through the main part of town can quickly become jammed in summer, but skirting around the peak season is a good strategy to experience Taos, and its famous Plaza, at its best.
To the southwest of Taos, on the backroads to Santa Fe, Rancho de Chimayo is a must for Mexican food and margarita lovers. With a beautiful terraced patio, dotted with shady catalpa trees, an afternoon here is a magic experience well worth the drive.
David Iler
Top photo by Jeff Caven, courtesy of Taos Ski Valley.
Second photo, "Taos Spring Valley," by Angie Coleman.