September 24, 1995
Geologic history has a strange way of repeating itself in northeastern Utah. Fifty million years ago, this slice of Utah was submerged in a huge 25,000-square-mile inland sea, Lake Uintah.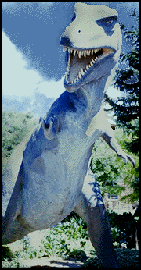 Today, it is a vast, wild landscape sprinkled with several man-made reservoirs, notably Flaming Gorge, which collects 91 miles of the upper Green River. In an otherwise parched desert highlighted by enchanting sandstone formations, these pools of water are reminders of the land's aquatic past.
Vernal, in the heart of Utah's "Dinosaurland," is a direct beneficiary of these water diversion projects. In late summer, Vernal is a lush oasis with golden fields of corn dotted with sunflowers, a stark contrast to the rugged, arid hills to the north and east. To many travelers, Vernal is merely a blip on U.S. 40 on the way to Salt Lake City or Denver, but it's a good base from which to explore the region's many recreation/archeological sites.
Greater Vernal is a good alternative to the more famous (and crowded) Moab area to the south. To the east of Vernal is the western edge of Dinosaur National Monument. To the north is Ashley National Forest and Flaming Gorge. Just outside of town about 10 miles to the north is Red Fleet Reservoir, named after three large sandstone outcrops that jut up from the water, as a fleet of ships. Closer to Vernal is Steinaker Reservoir. Two recommended camp sites within Ashley National Forest and a short distance from Vernal are on the shores of Oaks Park and East Park Reservoirs. The drive into Ashley National Forest reveals the sometimes eerie, but always fascinating Utah landscape. Around nearly every bend in the road is yet another splash of color and sweep of natural architecture.
With 31 campsites available on a first-come, first-served basis, Red Fleet is a convenient place to pitch a tent – not wilderness by any means, but a great overnight option for a weary traveler. True to form, Redfleet's campsite/lawn is irrigated sod, comfortable, but a little too opulent for purists.
Annoyingly, motorboats and jetskis are popular at Redfleet, but several hiking trails lead to quiet, serene sandstone grottoes. More thoughtful boaters/canoers row to Redfleet's distant shores to explore secluded beaches and desert tableaus. Thanks to a wet spring, the landscape this year is verdant and colorful. The high-altitude desert air is charged and polarized, almost animated, as if dinosaur ghosts linger just beyond the next rise. Evidence of their presence is everywhere, from tacky motel monsters to sets of footprints, dating from 190-200 million years ago, on the shore of Redfleet.
The Utah Field House of Natural History State Park on Vernal's Main Street contains a small and tastefully done series of exhibits explaining the geologic story of this region. One hundred and forty million years ago, northeastern Utah was flat and covered with small lakes and grasslands. Horses, mammoths and sabre-toothed cats were among the wildlife once roamed these lands. Although man has successfully wrestled the region's waterways into reservoirs and irrigation projects, geologic time and the changes wrought over the millennia demonstrate a far more dramatic force.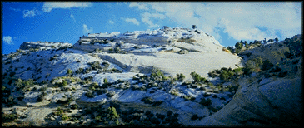 Down the road to the east of Vernal is Jensen, which takes one to the western entrance of Dinosaur National Monument. This haunting land is home to one of the world's greatest concentrations of dinosaur bones. Inside the monument is the famous Dinosaur Quarry with fossilized beasts, still in their sandstone death pose, open for viewing. Farther down the road is an idyllic campground on the Green River. Several hiking/biking trails are found in Dinosaur (maps and regional information are available at the Utah Field House in Vernal).
This ancient land, at once both austere and enchanting, is captivating. Its immensity and remoteness make it a magical refuge. In the clear, hot sunlight one can almost envision lakes, grasslands and a menagerie of wild, fierce creatures.
David Iler